Christmas chart hope for Jersey's Pirate Party Brigade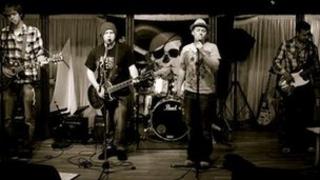 A Jersey rock band hope to beat the X-Factor winner and others to the Christmas number one spot in December.
The Pirate Brigade recorded a Christmas single called Mistletoed in the island that they are releasing online with 80% of sales going to charity.
The band were set the challenge to record the song by BBC Introducing in Jersey on BBC Radio Jersey.
Philippe Jackson, bass guitarist said: "Whether we sell five copies or five million every penny will help".
They recorded the Christmas song in four weeks with the help of a Jersey producer, Sam Falle.
The band said they would donate 80% of profits made on the track, which will be available from services like iTunes and Amazon, to cancer charity Marie Curie.
The song combines classic Christmas singles with traditional rock and pop elements. The band say inspiration came from a melody of different artists including Sir Cliff Richard, Slade and Wizard.
Mr Jackson said: "This is the first time we released something for charity and hopefully the public will help support the worthwhile Marie Curie charity.
"There are so many charities which need support, but we chose Marie Curie because we all fear cancer and much is being done for research but there are thousands of cancer sufferers that are benefiting from Marie Curie's care, which costs upwards of £83m per year to run."
The first play of Mistletoed by Pirate Party Brigade will be on BBC Introducing in Jersey with Ryan Morrison on BBC Radio Jersey (88.8FM, 1026MW) on Saturday 3 December from 13:00 GMT.