Jersey's 'White House' will be white again by Christmas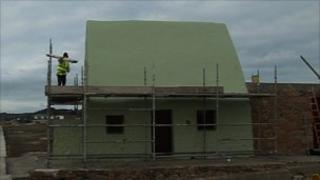 Jersey's 'White House' will be painted white again before Christmas.
The building, Le Don Hilton, on the St Ouen seafront was controversially painted green at the beginning of the year.
It was part of the National Trust for Jersey's greener-living campaign to promote environmental issues.
The organisation's president, Celia Jeune, said despite the complaints she did not regret the publicity that painting the building had generated.
"It was just a gesture for the year to promote our campaign," Ms Jeune said.
"Every month we've tried to help people to do things such as save water, save on their electricity bills and very simple things like using a washing line instead of their tumble drier.
"We'd like the planners and developers to include some of these opportunities for people so they can continue to not abuse our natural resources."