Jersey States could sue UK government over VAT change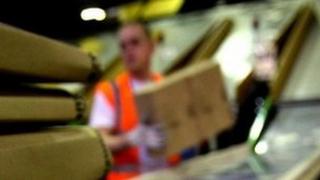 Jersey's government could mount a legal challenge against the British government over plans to end a so called VAT loophole.
Chancellor George Osborne unveiled plans to end the tax relief for Jersey firms selling goods to UK customers.
HM Revenue and Customs published proposals to end Low Value Consignment Relief (LVCR) from April 2012.
Jersey's Economic Development Minister Senator Alan Maclean said he would do all he could to protect local jobs.
Senator Maclean said: "I think we are unhappy by the fact it appears the UK are discriminating against the Channel Islands with the decision they have taken.
"It is very much up to the law officers and our legal advice to ascertain the exact basis for a case."
In his Autumn Statement, Mr Osborne said: "We're going to tackle the exploitation of LVCR.
"[It] has left our high street music stores fighting a losing battle with warehouses in the Channel Islands."
In the statement it was estimated the ending of the relief, due to take effect from April 2012, would make an additional £90m for the UK government in its first year.