Jersey fishermen hit by severe weather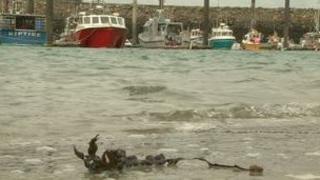 Jersey fishermen say they are missing out on the most lucrative fishing of the year because of the severe weather.
Fishing boats have not been out to sea for the past week as the weather has been too rough.
The president of the Jersey Fisherman's Association said it was some of the worst weather he had seen in the past five years.
Don Thompson said it had come in a year when profits were already at an all-time low.
He said: "What happens now is that prices go to their absolute highest point of the year and fishermen's profit margins go up a little bit.
"It is crucial for them to make a bit of extra money. We know it is winter time but it is particularly hard to be tied up for days and weeks at a time."
Fisherman Kevin Holden, who would usually be at sea, said he has been left with nothing to sell.
He said: "I've got most of my customers on email, I've emailed them and said it is bad news this week. I have two traders who will not get any fish."