Channel Island case against LVCR change 'has no chance'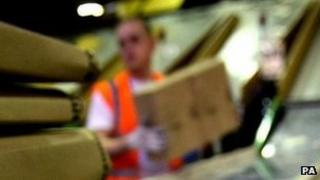 The Channel Islands legal challenge against the closing of a VAT loophole "hasn't got a chance", according to a tax campaigner.
The island governments said stopping Low Value Consignment Relief (LVCR) for just the islands and not the rest of Europe was discriminatory and unlawful.
Richard Allen, from Retailers Against VAT Avoidance Schemes, said the EU would not allow the challenge.
He said: "We put a complaint into the EU about LVCR and they upheld it."
Jersey and Guernsey are mounting separate legal challenges and they are expected to take about six to seven weeks to be completed.
'Not a right'
Jersey's Economic Development Minister, Senator Alan Maclean, said he had a duty to protect the interests of the island.
Senator Maclean said more than 1,000 people were employed in the island's fulfilment industry, which includes receiving, warehousing, repackaging and sending products.
Mr Allan said the UK government was under pressure from the EU to take action against island companies using the relief to sell goods to UK consumers without charging VAT.
"They have a duty to uphold European law and they cannot allow what is a threat to the single market and this is a threat to the single market because it undermines VAT. This is a concession, it is not a right, it is a piece of legislation the UK government can adjust as they see fit.
"It hasn't got a chance, the UK is acting on the say so of the European commission and they will oppose any moves by the Channel Islands to challenge it. There isn't a chance of challenging it," he said.
The UK Treasury announced in November it would end LVCR to the Channel Islands, and stated that more than £90m a year could be gained by the move.
Low Value Consignment Relief was introduced in 1983, with a threshold of about £5, as the cost of collecting the VAT on such small value items outweighed what it brought in for the UK Exchequer.
The growth of internet shopping and the relocation of some UK companies to take advantage of the relief prompted some to criticise the Channel Islands as a base for the "exploitation" of the system.