First set of Jersey cow embryos exported to Argentina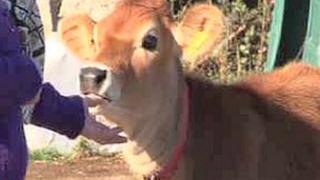 Exporting Jersey cow embryos could have huge economic benefits, said the president of the Royal Jersey Agricultural and Horticultural Society.
Stephen Le Feuvre said 121 embryos arrived in Argentina this weekend - the first batch under the new law.
Jersey also had orders from the USA, Canada, South Africa and Australia.
He said each embryo was worth about £500, and Jersey cows had 20% more calcium than other breeds so were therefore in high demand.
A strict ban on the import of bull semen was relaxed in 2008, and a new law was introduced last year to allow the trade of bovine embryos.
'Renewed interest'
He said: "It's providing significant extra income above the milk income for farmers."
Mr Le Feuvre said Jersey had been doing transfer work for the last 30 years, but there had been renewed interest from overseas since the law changed.
He was part of a Jersey delegation which visited China in August and said the country was expected to want embryos in the next 18 months.
He said China had started importing more dairy cows to boost production and the quality of milk.
Mr Le Feuvre said the country planned to nearly double milk production by 2020, as part of a long term plan to improve nutrition for the world's largest population.