Folklore festival announced by Jersey Live organisers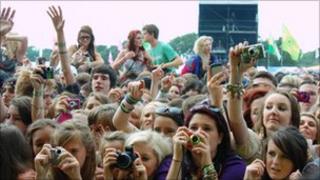 The organisers of the Jersey Live music festival are launching a new event in the summer provisionally called Folklore.
Based on the Latitude festival it will feature music, poetry and literature and will be held at the end of June.
Warren Le Sueur and Warren Holt said they wanted to create something with an alternative feel.
Mr Holt said they had already made approaches to some big artists ahead of the mid-summer event.
He said: "It will be a total alternative to the Jersey Live festival really, that is mainstream and this will be alternative.
"We are speaking to some interesting artists at the moment and it will be a real shock for people."
Mr Le Sueur said that although the name could still change, they were behind Folklore as he hoped it would be "something people would be talking about, the stuff of legends in the future".
"We will be putting amazing heritage acts on the stage at Folklore, so we think it is a fitting word," he added.