New head teacher at Jersey's Le Rocquier School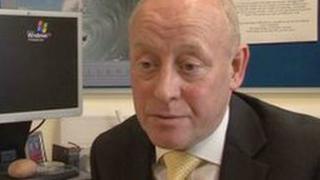 Jersey's Le Rocquier School has a new head teacher.
Phil Slater, 54, has been deputy head at Le Rocquier for 11 years, and had been the acting head since the previous head teacher stepped down.
Richard Rolfe resigned in October, after nine years at the secondary school, because of ill health.
Mr Slater said: "I am very pleased and proud to be appointed as the new head teacher of Le Rocquier, which I believe has a very bright future indeed."
He added: "The school has a great set of pupils, supportive parents and governors, and an excellent staff team.
"I am confident we will all work together to ensure the best possible for our students."
Mr Slater began his career in 1979 at a school in Buckinghamshire, where he taught geography and PE. He moved to Jersey with his family in 2001.
Education Minister Deputy Patrick Ryan said: "Mr Slater's appointment is excellent news for Le Rocquier.
"He has already shown his commitment to the school and he brings to this job a great deal of teaching experience, as well as a sound knowledge of the school, its students and its ethos.
"I wish him every success in this important role."