Ramsar plan to protect wildlife on Jersey's offshore reefs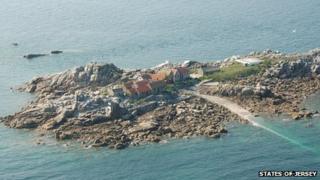 People using wetlands in Jersey which are protected under an international treaty are being asked to follow codes of conduct.
The new strategy from the Ramsar Management Authority aims to protect Jersey's offshore reefs wildlife.
They will affect Ramsar sites at Les Minquiers, Les Ecrehous and Les Dirouilles and the Paternosters.
The plan for Jersey's fourth Ramsar site on the south east coast was published last year.
The codes of conduct include using care and consideration on the areas when doing anything from buoy handling work to dredging.
The sites are protected under an international agreement first signed in the Iranian town of Ramsar in the 1970s in response to concerns about the loss of wetland habitats, which are used by migrating birds.
The management strategy explores the effect on the wildlife of visitors and industries such as fishing.
The Ramsar Management Authority is made up of government and parish representatives, the Receiver General and various non-governmental organisations.
The sites are at threat of marine pollution as well as climate change and invasive alien species, said Marine and Coastal Officer Greg Morel.
He added: "We also need to work closely with those who use the areas for recreation and fishing to make sure that we can enjoy them today and protect them for future generations."
Meanwhile Jersey's Environment Minister and Ramsar Management Authority Chairman, Deputy Rob Duhamel, described the plans as a step forward.