Jersey officers on patrol to tackle illegal ormer fishing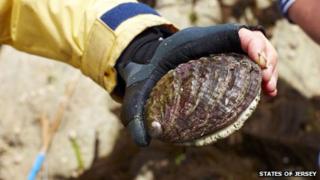 Fisheries officers will be policing this weekend's large spring tide to ensure there was no ormer fishing.
Ormering season runs from October to April and they can only be fished on the first day of each new or full moon and the following three days.
Fisheries Officer Jonathan Shrives said ormer fishing would ended on Friday.
He said: "We will have an increased presence this weekend to make sure people are aware of and understand the legislation."
He added: "Our aim is to provide greater protection for ormer stocks in local waters without imposing any extra restrictions on low water fishermen."
Dr Shrives added fishermen need to return boulders and rocks to the position they were found in because it can cause marine life to die from exposure.