Channel Island ferries move from Weymouth to Poole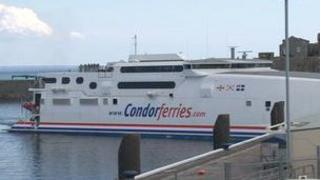 Condor Ferries sailings from Weymouth to the Channel Islands are to be moved to Poole Harbour after safety concerns.
The company confirmed sailings this weekend would be relocated after concerns were raised about the structural integrity of part of the ferry berth in Weymouth Port.
An investigation by the port engineers has led to the berth being removed for a more detailed investigation.
Condor Ferries is contacting passengers affected by the change of port.
The company said it would help them change travel plans if necessary.
Captain Fran Collins, operations director, said: "The safety of our passengers and crew is always our highest priority and we have taken this step to help sustain our lifeline ferry services between the Channel Islands and the UK.
"We are working closely with Weymouth Harbour to understand the extent of this issue and are in close co-operation with Poole Harbour Commissioners to make sure the change of port goes as smoothly as possible."