Call to drop Miss Battle of Flowers age limit to 16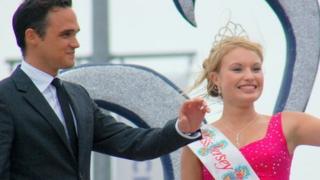 The age restriction on Miss Parish competitions in Jersey should be lowered, said a St Helier battle representative.
Debbie de Sousa, from St Helier's Battle Association, thinks more girls would apply to be a Miss Parish if 16 year olds were allowed to compete.
At the moment young women must be 18 by Battle day to enter, but some parishes have had no entries this year.
Mrs de Sousa said a lot of 18 year olds are at university.
The winner of each of the Miss Parish competitions goes forward to enter to become Miss Jersey Battle of Flowers. This competition was moved to later in the year.
Mrs de Sousa said: "I think some of the logistics with the moving of the Miss Battle competition is partly to blame. This means all the parishes have to hold their competitions earlier.
"A lot of the youngsters are away at university. We have ours at half term but a lot of them can't get home for half term so they can't enter.
"I really think they could look at lowering the age, I don't see why Miss Battle has to be 18 years old."