St Helier meeting to discuss States reform plans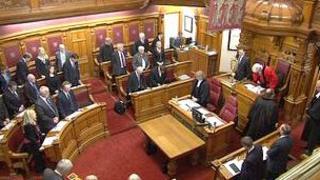 St Helier residents are being asked their views on the presence of politicians on a political review body.
Nick Le Cornu has called an extraordinary parish assembly to put parishioners views on the issue to Constable Simon Crowcroft.
The Electoral Commission will look at the make up of the States of Jersey.
Mr Le Cornu does not feel politicians should be on the commission. The States will decide if an electoral commission should be independent in March.
Extraordinary meeting
Senator Bailhache, Jersey's former bailiff, was chief judge and president of the States of Jersey and said it was important to have States members in the electoral commission because it was the members who would have to decide whether to accept the proposals.
St Clement resident Mike Dunn was in the first group of residents to call an extraordinary meeting on this issue.
He used an old Jersey law that means if four residents request it a meeting can be called on a subject to be debated in the States in the parish hall.
Mr Dunn said: "People have got the intelligence to do it so let people have a go. Obviously there are a group of States members who are terrified of letting the public have control.
"This is an extraordinarily old law that allows people to take control of things. It allows people to express their views, to call the constable and to call a meeting."
Mr Le Cornu said he hoped people would turn up to petition the Constable of St Helier to vote in favour of Deputy Roy Le Herissier's amendment to remove politicians from the panel.
He said: "If there is going to be genuine independence and a genuine objective outcome to the review it is important States members don't sit there."