Jersey minister says Fort Regent access 'a priority'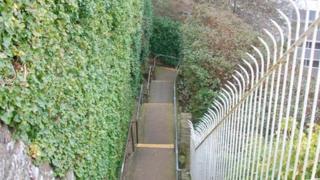 Jersey's treasury minister says he will make finding money to improve access to Fort Regent a priority.
Senator Philip Ozouf said it was a "jewel in the crown" but needed investment to improve access.
He said that as well as investing in better access, allowing private companies to run parts of the Fort would improve the leisure centre.
Roy Travert, from Support the Fort Liaison Group, said he was against any private funding.
He said: "I am totally against any public private partnerships at Fort Regent because they simply do not work."
Direct access
At the moment there are no direct lifts to the centre, meaning people on foot would have to use a lift and two escalators.
Senator Ozouf said lifts from Snow Hill directly to the venue would solve that.
He said: "It needs some political oomph in order to try and find a solution. It receives a subsidy of about £500,000 a year, there has been decades of investment in the infrastructure.
"Some of it is derelict, the swimming pool is an embarrassment, but what a fantastic site. Let's find something we can do constructively with the site, additional opportunities for Fort Regent.
"It should be a centre of sporting excellence, half a million people go every year to use the sports facilities but it needs some TLC, it needs some commitment."
Senator Ozouf said the Chief Minister Senator Ian Gorst described the fort as a priority and called for States members to get behind him.
He said: "I am prepared to be part of the team that will work tirelessly to find a solution for what can be something people in Jersey can be proud of."