Replica German tank tours Jersey streets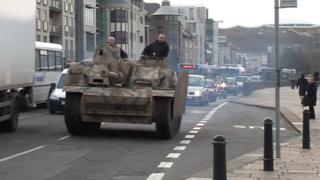 A replica World War II German tank was on the streets of Jersey on Thursday as it made its way to a new home.
The tank was commissioned by the Jersey War Tunnels, in St Peter, as a new centrepiece for its entrance.
The 16-tonne vehicle was created from the shell of a British Army tank and brought over from Portsmouth.
Paul Simmonds, from the war tunnels, said they wanted something for the entrance of the museum after visitor feedback.
"We took the decision in the summer of last year based on market research from our visitors," Mr Simmonds said.
"Their responses were overwhelmingly in favour of experiences and seeing physical objects."
The Sturmgeschütz iii Ausf. G tank has been recreated to the smallest detail, Mr Simmonds said.
"One of the most interesting things is that it began its life as a British Army personnel carrier. They have replicated it to every detail including the paint, decor and everything," he said.
John Webster, who was part of the team that built the tank, said driving it on Jersey's busy roads was "an experience".
"The police told me the roads would be closed, all I could see was through a tiny little slot, like a letter box," he said.
"I look out and I can see cars, cyclists and I can't see left or right. I totally had to rely on my commander who was screaming at me through a headset."
The Channel Islands were the only part of the British Isles to be occupied by Germany during World War II.
Hohlgangsanlage 8, otherwise known as the German Underground Hospital or more recently the Jersey War Tunnels, was an underground hospital complex built for the German occupying forces.
It includes more than 1km of tunnels and was turned into an occupation museum and tourist attraction a year after the island was liberated.