Jersey seagull controls affects numbers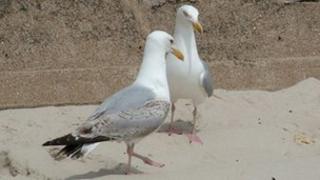 A Jersey environmentalist says the declining number of seagulls on the island may be linked to previous population control attempts.
Mike Stentiford said a few years ago some eggs were taken from seagulls to reduce their numbers in areas of St Helier and St Clement.
He said numbers of cormorants, shags and seagulls were falling, but terns, which had fallen in number, had now returned to Elizabeth Castle to nest.
Fulmers are also doing well in Jersey.
'Cause a nuisance'
He said: "The Societe Jersiaise do a lot of the monitoring of the gulls.
"I think the perception from the general public that is because gulls cause a bit of a nuisance when they are nesting in town and during the summer season I think they get the impression there are gulls everywhere.
"The fact is the gulls are declining."
At the end of last year amajor report into Jersey birds revealed 33 species of local birds were endangered.
The puffin is the seabird most in danger of dying out in Jersey, with only eight thought to be left on the island's cliffs.