BBC Radio Jersey launches presenter search competition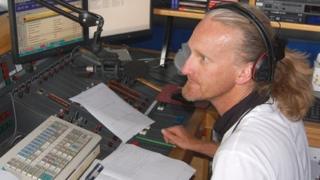 BBC Radio Jersey has launched a "Search for a Star" talent competition to find a new radio presenter.
Managing editor, Jon Gripton, said: "Maybe you listen to the radio thinking I could do this job or even could do better than this. Well now is your chance."
The competition is being launched as part of the station's 30th birthday celebrations. BBC Radio Jersey was opened on 15 March 1982.
The winner will get their own show on BBC Radio Jersey.
Mr Gripton said: "We've been part of island life since 1982 - now it's time to unearth some hidden talent."
A panel of judges, including Afternoon Show presenter Kevin Pamplin and the features editor of the Jersey Evening Post, Caroline Moody, will pick a winner in a special programme later in 2012.
Presenter and assistant editor, Matthew Price, said a good tip for any future radio presenter was to imagine it as a one-to-one conversation.
He said: "If you're on the radio, be yourself. Imagine you are talking to just one person and that person is a good friend. Talk as if you were chatting in the pub or at home and share a little of yourself."
How to enter
Entrants must submit an MP3 or home recording of their demo (maximum length 2.5 minutes). It can be submitted via email or by post, or uploaded to a service of the users choice provided a link is then forwarded toradiojersey@bbc.co.uk.
The recording must include the entrants name and where they are from, along with an idea for who they would like to interview and why.
It could be recorded outside or indoors, and they could add sound effects or music.
Entrants will be assessed on how compelling their recording is, and how interesting and entertaining they appear to be.
Entries must be submitted by 23:59 GMT on Saturday 14 April 2012.
See thefull terms and conditions.