HMS Mersey is star attraction of the Jersey Boat Show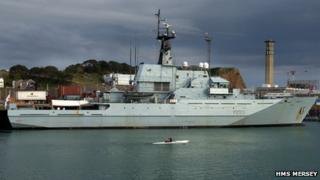 HMS Mersey has been announced as the star attraction of the 2012 Jersey Boat Show by organisers.
The 79 metre River Class Offshore Patrol Vessel weighs 1,700 tonnes and is responsible for fisheries protection and maritime security.
The vessel is the winner of the Jersey Cup and during its visit, will be presented with the cup by the Lieutenant Governor, Sir John McColl.
It will open to visitors for the show which runs from 5-7 May.
Myra Shacklady, commercial director for Ports of Jersey, said: "The vessel last attended the show in 2010, and last year we were lucky enough to host her sister ship, HMS Severn.
"It is wonderful to have HMS Mersey return and I would like to take this opportunity to thank the Royal Navy for their continued support as not all boat shows are lucky enough to host a working Royal Navy warship every year."
Richard Corrigan, director of Barclays Wealth Jersey, said: "It promises to be a great event and it is testament to the popularity of the weekend that we have the involvement of such a prestigious vessel."