JT raises £10,000 for Teenage Cancer Trust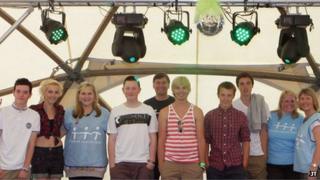 Fundraising by a Jersey telecommunications company has raised £10,000 for charity.
JT had the Teenage Cancer Trust as its chosen charity for 2011.
The money raised will help pay for the development of specialist accommodation at Southampton Hospital.
It will help young cancer patients living in the Channel Islands, Hampshire, Dorset and parts of West Sussex.
JT employees held a variety of fundraising activities and donated one hour of their salary, and each £1 raised was matched by JT.
Helen Haynes, from the Teenage Cancer Trust, said: '"We were absolutely delighted to be chosen as JT's charity of the year and the total amount raised is fantastic.
"This is a significant figure, which when added to our other fundraising initiatives, means we are well on our way to reaching the appeal target and ensuring the much needed specialist Teenage Cancer Trust unit is developed.
"We are very grateful to each and every employee at JT who volunteered their time to fundraising on our behalf and we thank JT for matching their efforts so generously."
Barna Kutvolgyi from JT said: "As well as raising funds, we were also delighted to be able to provide VIP access at Jersey Live for some of the teenagers suffering from cancer, it was a pleasure for our team to host them and we hope made a lasting memory for each of them."