Jersey post plane to arrive 30 minutes later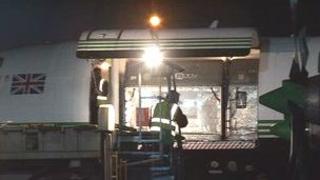 Post and newspapers will be arriving in Jersey 30 minutes later from 2 April.
Jersey Post said declining mail volumes and the cost of opening Jersey Airport early were factors in the decision.
Andy Jehan from Jersey Post said: "There will be an impact for some of our customers who will see a delay of 30 minutes on their delivery times.
"However we are optimistic that through process change we can start minimising this and improve on this wherever possible."
Jersey Airport opens at 05:30 BST Monday to Saturday solely for the incoming mail and newspaper aircraft from Bournemouth.
Jersey Post said from 2 April the aircraft would arrive at the later time of 06:00 BST.
Jersey Post said on average, the plane carried five tonnes of inbound mail and despatches around 2.5 tonnes of outbound mail.
It said second class UK mail and international surface mail would continue to arrive by sea via Condor at 09:00 BST Monday to Saturday.
Jersey Post said opening the airport early came at a high price, with the cost of air traffic services, security and airport fire service staff who are required to be on duty when the aircraft lands.