Jersey residents urged to stop gulls nesting on roofs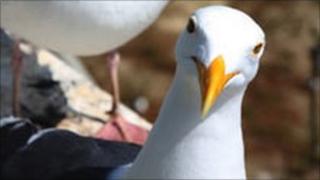 People in Jersey are being urged to discourage gulls from nesting on roofs.
David Tipping, natural environment officer, said people need to act before May when the eggs will be hatching.
Mr Tipping said gulls start looking for a nest site from February, so islanders should check their roofs.
He said: "If we can discourage roof nesting gulls by protecting our roofs, and stop food being available on the streets, herring gulls will eventually return to a more natural diet."
He said protecting rubbish and not feeding the gulls would also help the birds return to the cliffs and reduce the urban gull populations.
The Department of the Environment said nesting gulls could only be removed by a pest controller with a relevant license.
Seagulls are protected under the Conservation of Wildlife (Jersey) Law 2000.
Mr Tipping said if nothing was done by May, the eggs would have hatched and removing the gulls would mean killing chicks, which he said would cause unnecessary distress.
"Preventative action prior to the nesting season is the best and most effective way of protecting your roof and can save money and considerable inconvenience," he said.