Jersey schoolboys wearing safety wrist bands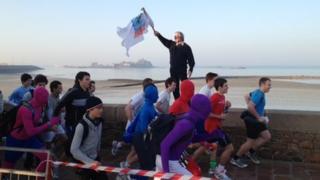 Schoolboys taking part in a round Jersey walk were wearing electronic wrist bands to keep them safe.
In the past a card was carried by the boys taking part in the De La Salle walk, which they took through the checkpoints.
The 405 boys taking part in the 36-mile walk hope to raise money for charity and school trips.
In 2011 more than £14,000 was raised in sponsorship with £8,000 going to local and international charities.
Mark Blanchard from the fee-paying Catholic school said the new safety measure allowed them to check when the boys came through.
He said: "Boys were given a rubberised wrist band with a chip inside so when they run to a checkpoint they put the band on card which registers their details.
"It allows the person manning the checkpoint to check they have gone through and that it is the real boy."