Jersey education reveals exam result schedule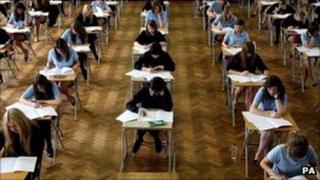 Jersey's education department has outlined when it will release overall GCSE and A-level results.
Education, Sport and Culture Minister Deputy Patrick Ryan said he would publish information on results and the education system to a set schedule.
Schools will be given provisional results in August before publishing them on their websites in November.
The department has come under criticism in the past for not releasing details quickly enough or at all.
Deputy Ryan said he was "committed to government openness and transparency". He said this was what parents wanted.
The minister said: "Many of the responses to a recent consultation supported this view. In particular, I wanted to be very clear about the timing for publication of exam results."
In August, schools will be given provisional A-level and GCSE results so they can submit appeals to UK exam boards if necessary.
On 9 November, schools will be given final results, adjusted to take into account any re-marking. They will then be posted by each secondary school on their own website.
The breakdown for GCSE grades for Jersey schools were published for the first time in 2011.
This followed a freedom of information request earlier in the same year that showed some Jersey schools achieved very low GCSE pass rates in 2010.
Deputy Ryan said: "I am aware that the performance of schools may vary considerably because of different factors that affect each of them.
"I would advise users of the website to look at the background information the school provides."
Jersey has four state-run secondary schools as well as two single sex fee-paying grammar schools, two Catholic private schools and a post-14 selective grammar school.