St Helier 'twinned' with Madeiran capital Funchal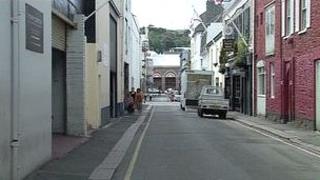 St Helier will officially seal its relationship with the Madeiran capital of Funchal with a twinning agreement.
The first part of the agreement was signed four years ago but the floods in Madeira in 2010 caused delay in completing the agreement.
The Mayor of Funchal, Dr Miguel Albuquerque, is in Jersey to sign the agreement with the St Helier Constable Simon Crowcroft.
Constable Crowcroft said: "It's a tremendous opportunity for the island."
This evening Dr Albuquerque will officially open Rue de Funchal in St Helier, which parishioners agreed to rename from James Street three years ago.
Dr Albuquerque told the BBC a road in the Madeiran capital would be renamed after St Helier next year.
He said: "The links between Jersey and Madeira and St Helier and Funchal are very, very old.
"The first Madeiran man arrived in Jersey in 1937 or 1938 and since then we have had very strong connections with the Portuguese community who come to Jersey to work."
Census figures showed about 8% of people living in Jersey have Portuguese or Madeiran heritage.