Condor celebrates 25 years of Channel Island sailings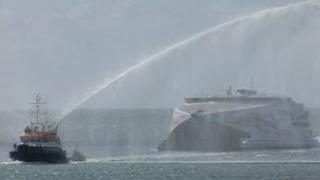 Condor ferries is celebrating 25 years since its first passenger sailing between the Channel Islands and Weymouth.
When the Condor Vitesse arrived in St Helier it was given a celebratory water salute by the States tug.
The captain in charge a quarter of a century ago, Michael Dumont, is now a Harbour Pilot in Guernsey.
He said Condor got involved on the route when Sealink pulled out of the Channel Islands.
He said: "We started a run to Poole for a few weeks when Sealink pulled out.
"Then the following year we got a license to run Condor 7 across to Weymouth so that was the start of the scheduled service."
Condor Ferries relocated its Channel Island sailings from Weymouth to Poole in February due to Weymouth's quay needing structural repairs.