Jersey Post issues a £3 stamp to commemorate the Titanic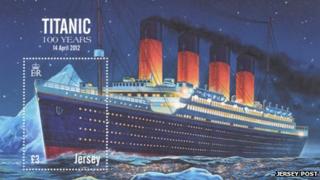 Jersey Post has issued a £3 stamp to commemorate 100 years since the Titanic sank.
Melanie Gouzinis, Jersey Post's philatelic product manager, said 10 people with a Jersey connection were known to have been on board.
She said they were three female passengers and seven Jersey crewmen, but only four survived.
But she said the figure did vary because there were few details noted for lower class passengers.
She said: "We felt that it was important to mark the anniversary of this historic event.
"During a meeting with local collector David Gainsborough-Roberts, we discovered that he owns a set of keys which had belonged to the Lamp Trimmer, Ernest Hemmings, the first person to realise that Titanic was sinking.
"Mr Gainsborough-Roberts kindly allowed us to photograph the keys to reproduce on the First Day Cover envelope."
The stamp by artist and illustrator Mark Wilkinson is his first commission for Jersey Post.
Ms Gouzinis said: "Mark is best known for his album sleeve and poster designs for rock bands such as Marillion and The Darkness."
It was 100 years ago, on 14 April 1912 that Titanic struck a 90ft iceberg on its maiden voyage from Southampton to New York.