Jersey's Queen Victoria Jubilee pool 'may be restored'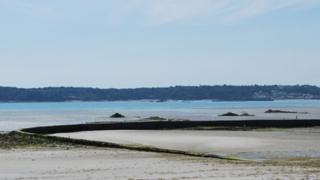 A seawater pool built to commemorate Queen Victoria's Diamond Jubilee could be restored for public use, according to St Helier officials.
The West Park Pool, originally called the Victoria Marine Lake, was opened in 1897 and is Jersey's oldest such pool.
It fell into disrepair and no longer contains water after high tide.
Historian and St Helier Parish roads committee member Geraint Jennings said he hoped the pool would be enjoyed again "but it may not be this year".
He said: "It is a much-loved facility which people remember from the past and people would love to see in use again.
"The parish is very keen to overcome technical obstacles and ensure people can enjoy it for many years to come."