Some Condor ferry staff from Ukraine paid £2.35 hour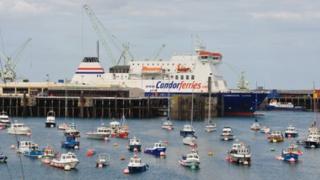 Condor Ferries pays some staff on its ships £2.35 an hour, below the minimum wage in the Channel Islands and the UK.
The head of Condor Ferries, Ken Soar, said the practice makes good business sense and was not illegal.
The Ukrainian staff work on the Commodore Clipper, which carries passengers and freight, and The Goodwill, which carries just freight.
Mr Soar said there was nothing illegal or wrong about the practice and paying them more would lead to higher prices.
He said they were paid four times the national average wage they would earn in their own country.
Mr Soar told BBC News that it would be unwise in a competitive market to pay these workers more.
He said: "It would put up the cost of freight to the islands which is certainly not where we want to be, what we want to do is provide the best price.
"This is by no means an abnormal way of doing it and we want to provide an excellent all year around service.
"We don't do it on the high speed crafts, the passenger vessels."