Jersey housing cash injection leads to earlier upgrades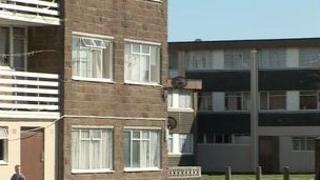 A £27m cash injection means tenants in social housing will be able to improve their homes sooner than planned, according to Jersey's Housing Minister.
Deputy Andrew Green said islanders living in estates like La Collette would get better living conditions.
Treasury Minister, Senator Philip Ozouf, will release the money on a project by project basis after "higher than expected tax revenues".
There will be new builds as well as refurbshiments.
Deputy Green said the cash would make a big difference to many people.
'Caps on rents'
He said: "We've got a very well-established vibrant building industry that is running out of work at the moment. We want to give them more work.
"But these are not jobs created just for the sake of creating them, this is work that needs to be done."
A Jersey tenants campaigner said the money would only skim the surface of the problems facing Jersey social housing tenants.
Mike Dun said the island's Housing Law had not made any difference since it was introduced in 1949.
He said: "Allow people to participate in this housing market for what it is.
"People who live here can be better addressed with realistic rents, caps on rents, caps on house prices and realistic prices to buy."