Jersey Liberation music to reflect Warsaw Uprising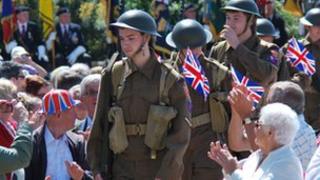 Concerts planned for Jersey's Liberation commemoration this year will include music that reflects the Warsaw Uprising.
The uprising in 1944 was organised by the Polish resistance to liberate the city from Nazi occupation.
The Poles believed they were about to be liberated by the Russians, but their advance was delayed and the uprising crushed.
Music in Action has organised a series of concerts and performances.
About 3,000 Poles live and work in Jersey and according to the 2011 census.
Landing stage
Jersey and Guernsey mark their liberation from German occupation every year.
The Channel Islands were the only part of the British Isles to come under Nazi rule during World War II.
Hitler saw Jersey, Guernsey, Alderney, Sark and Herm as strategic landing stages for an invasion of mainland France.
German troops invaded the islands in June 1940 and they remained under occupation until being liberated on 9 May 1945.