Jersey unemployment drops slightly in March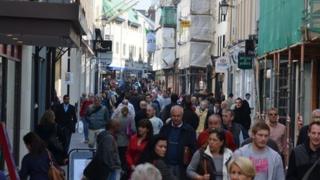 Unemployment in Jersey dropped in March on the previous month according to figures from the States statistics unit.
At the end of March there were 1,810 people registered as out of work with a third of them under 25 years old.
There were 10 fewer people unemployed than in February, the first drop in unemployment since June 2011.
If you take into account summer workers, the total number was 90 higher than a month earlier.
The social security department said more than 70% of those out of work were claiming benefits.
The number of people who have been jobless for more than a year has almost doubled in the past 12 months to 330.
The number of teenagers actively looking for work was 20 fewer than the previous month, dropping to 260.
Of those, 110 were on the States advance to work scheme.
States statistician Duncan Gibault said in the report that some industries were under represented in the unemployment figures as it only included people who registered with social security as looking for work.
He said: "Individuals working in some occupations and industries of the economy, notably in the finance sector, often seek employment through private agencies instead of registering with the social security department."
The 2011 census found that 4.7% of the population were out of work as of March 2011, about 2,500 people.
The Advance to Work scheme provides 16 to 19 year olds who have left school or college with a work placement and training.