Jersey's Battle of Flowers to split parades for 2012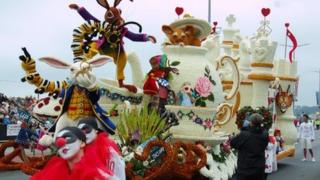 The 2012 Battle of Flowers event in Jersey will be split into two parades with floats coming in from both sides.
Parade Chairman Tony Perkins said the changes would mean islanders would be able to see more of the bigger displays.
Islanders in many parishes have already started building their floats for the main event on 9 August.
Mr Perkins said the changes would make it a better parade for spectators as they would see more sooner.
He said: "With the help of the exhibitors who have agreed we are splitting the parade so we will have equal amounts coming from both ends and turning in lay-by four.
"Some of the exhibitors will do two trips of the arena in the day and in the evening parade they will do three."
The Jersey Battle of Flowers takes place every year and islanders build floats and decorate them with flowers.
It started life as a celebration of the coronation of King Edward VII in 1902 but was so popular it returned the following year.