Gunsite cafe in Jersey covered in sand in high winds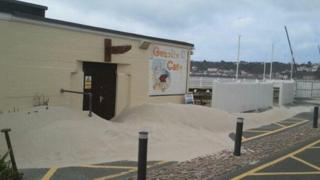 A cafe in St Aubin's Bay has been partially buried in sand after gale force winds overnight.
States of Jersey police said a number of trees had been blown down and they had worked through the night to clear roads.
Jackie Critchley, from Gunsite cafe, said staff had had to get a digger down to open the door to get in.
Overnight gales blew sand banks against buildings and the cycle track in St Aubin's Bay.
Ms Critchley said: "The sand has totally made a wall against the cafe so we can't open the door."
The Petit Train driver Paul Bell said he had had to cancel the tourist train rides because of a blanket of sand on the seafront.