Jersey Royal potato pollution cost island £500,000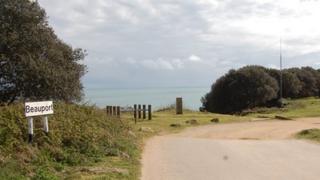 Pollution caused by buried potatoes at Beauport 20 years ago cost the island about £500,000 according to the transport minister.
The beach at Beauport closed in 1992 when tons of Jersey Royals were dumped in the area after people stopped buying them.
Liquid from the potatoes polluted the beach and for over 10 years tankers removed effluent for treatment.
Deputy Kevin Lewis said it would never happen again.
Engineers had to build a pumping station to remove liquid that polluted the beach.
Duncan Berry, from the States transport department, said it would be some time before the runoff was safe.
He said: "Initially the strength of the liquid emanating from this site was 20 times the strength of crude sewage in organic terms.
"That has now dropped significantly to 10% of crude sewage but that is still very oxygen depleting, we don't want that going on the beach. We still pump it to Bellozanne for treatment."
For a number of years the liquid had to be taken away by tankers.