Jersey's Bailiff says freedoms of liberation still important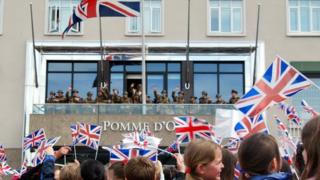 The freedoms Jersey celebrated 67 years ago when liberated from German occupation are still relevant today, the Bailiff has said.
Thousands of people gathered in St Helier to mark the anniversary of Jersey's liberation.
Michael Birt gave his annual address and said that it was still important for people to remember what happened.
The island was under Nazi occupation from 1940-45. Islanders celebrate their liberation annually on 9 May.
It has been 67 years since Sir Winston Churchill said "our dear Channel Islands are also to be freed today" and ended five years of German rule.
Mr Birt paid tribute to the armed forces, in the past and those from Jersey fighting abroad today.
He said: "Young men and women from Jersey still volunteer to fight in the armed forces, for example in Iraq and Afghanistan.
"They are still undertaking the same essential task of seeking to preserve our peace and security, just as their predecessors did so many years ago."