BBC Radio Jersey plans summer of special programming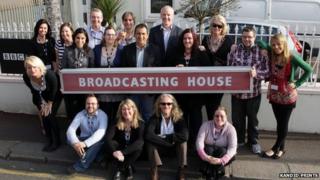 BBC Radio Jersey will be welcoming the Olympic Torch to the island on Sunday 15 July in the afternoon.
Roger Bara and Tim Pryor will be hosting a special programme from Weighbridge Square as 16 islanders carry the flame from Bel Royal, along Victoria Avenue into the heart of St Helier.
It is part of a summer of special programmes being planned.
Assistant Editor Matthew Price said: "We are really looking forward to leaving the studio behind and getting out and about around Jersey to meet as many islanders and holiday-makers as possible."
Battle of Flowers
He will be joining Kevin Pamplin on 9 August for live coverage of the annual Battle of Flowers along Victoria Avenue and the Moonlight Parade the following night.
Elsewhere the challenge to visit all 12 Jersey parishes in 12 months for 12 hours in 2012 continues.
On 29 May the entire output of BBC Radio Jersey will come from St Mary. On 26 June, the team will be in St Martin and in St John on 31 July.
The station has already visited St Peter, St Helier, St Saviour and St Lawrence in the first four months of this year.
Matthew Price said he was keen to meet as many people as possible.
He said: "We would really like to use this summer's great weather to get closer to our audience and to feel good about living in what is called the sunniest place in the British Isles."
At the end of June BBC Radio Jersey will be broadcasting live from the first Folklore festival in People's Park.
Then in September the station will be live from the Jersey International Air Display and at Jersey Live in Trinity.
But before those dates, BBC Radio Jersey will celebrate The Queen's Diamond Jubilee across the weekend of 2 - 5 June.
There will be live coverage of the celebrations and coverage of the lighting of the most southerly Jubilee Beacon in the British Isles on Monday 4 June.