Plan to help Jersey's bees recover from American Foulbrood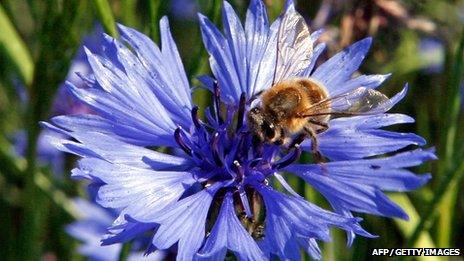 Renewed efforts to tackle Jersey's struggling bee population have begun after signs were found that a killer disease is still on the island.
Three years ago about a fifth of Jersey's bees were wiped out by American Foulbrood.
Entire colonies were destroyed before the disease was discovered.
Now the Channel Islands Cooperative Society is launching "Plan Bee" with the Jersey Bee Keepers Association to help expand the local population.
The society is sending 500 packets of seeds to Jersey primary schools as part of the initiative.
Bob Tompkins, from the Jersey Bee Keepers Association, said: "We have been focusing on raising strong, healthy stock. This however takes time and training.
"If islanders can support us by following a few simple steps, such as planting wild flowers, this process can be greatly enhanced."
Jersey was declared an infected zone at the start of June 2010, with movement of hives and equipment banned after the bacteria was found in two hives.
Related Internet Links
The BBC is not responsible for the content of external sites.