'Wrong place' for playground says St Helier Constable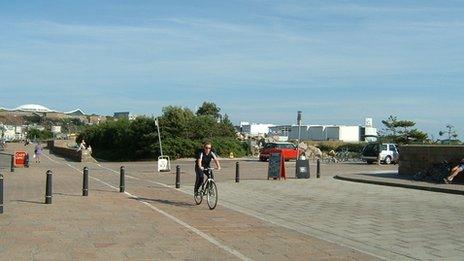 A proposed playground on Jersey's waterfront is in the wrong place, according to the St Helier Constable.
The States of Jersey Development Company has put together plans for a play park at Les Jardins de la Mer.
A carousel and trampolines could feature in the playground, which it is hoped will encourage more visitors.
Constable Simon Crowcroft said he was concerned the area was already too built up and the plans would involve removing natural shrubs and trees.
But he said the idea of increasing children's play facilities was excellent in principle.
He said: "There is a clear shortage in town and the Island Plan highlighted a lack of play space for children as being a problem that Jersey has got to deal with.
"I think if they were taking a piece of the undeveloped waterfront on the left hand side, where the trampolines used to be, it would be ok."
He added: "I think there are precious little natural areas in St Helier that people have access to."
Related Internet Links
The BBC is not responsible for the content of external sites.