VAT collection causes post delays in Jersey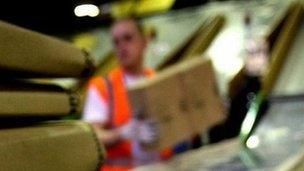 The scrapping of a VAT relief on items sent to the UK has led to increased queues at the Post Office, the head of Jersey Post has said.
Kevin Keen said customers had complained about getting their products late since Low Value Consignment Relief (LVCR) was stopped on 1 April.
The UK now have to calculate and charge VAT on more goods exported from Jersey and Guernsey.
Mr Keen said this was slowing things down and leading to complaints.
He said Jersey Post was now offering a prepaid VAT scheme to help customers avoid delays but it meant staff had to work more.
He said: "It is just extra work for the people at the Post Office and sometimes it's unfortunately increased queuing times as customers get their VAT pre-paid.
"We know some customers have had problems and obviously we are very sorry when that happens even when it's not in our control."
LVCR allowed companies in the Channel Islands to sell low price goods VAT free to UK customers.
Related Internet Links
The BBC is not responsible for the content of external sites.