George Troy and Son's workers in Jersey made redundant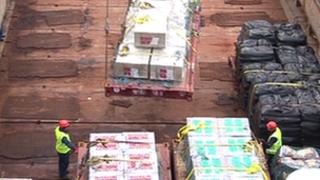 Workers at Jersey's only stevedore company George Troy and Son's have been made redundant.
The company went into liquidation in April and on Friday about 30 members of staff were given notice of redundancy.
George Troy and Son's hold the licence to unload 98% of the cargo that comes through the docks.
Economic Development Minister, Senator Alan Maclean, said the government would start a tender process to find a replacement company.
He added: "I feel certain many of the men will find work through this ultimate replacement service when it is in place.
"In the short term the States would step in to run the service if necessary until a replacement company can be found to provide the service."