Jersey environment officials watch for poisonous moths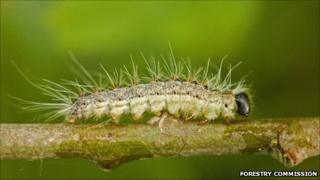 Jersey's environment department are watching areas of the island for signs of poisonous moths.
Several people were taken to hospital a few years ago and two oak trees were felled because of the Oak Processionary Moth.
The hairs on their caterpillars can be highly toxic, causing rashes or breathing problems.
Experts in London are also monitoring parts of the city for signs of the moth ahead of the Olympic Games.
Scott Meadows, of the Jersey Environment Department, is testing out new methods to trap male moths.
He said people might spot the green tubs on trees.