Jersey watchdog concern over 'political interference' in inquiry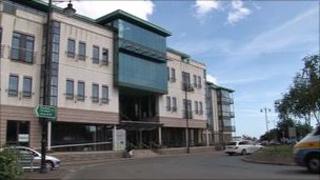 Jersey's government watchdog has said it is seriously concerned over political interference with an inquiry into a failed bid to buy a new police station.
A letter written by the Comptroller and Auditor General, Chris Swinson, said he thought the treasury minister was attempting to smear his review.
He reviewed the failed attempt to buy the Lime Grove building for the police.
The minister, Senator Philip Ozouf, said the accusations were one-sided.
He said: "This is the second time the comptroller and auditor general has effectively published a report with one-sided accusations that somebody being held to account that they in their view are being harassed to do their job."
The deal to buy the building for about £8m fell through when the owner decided to lease it to a finance company.
In the letter to the Public Accounts Committee, Mr Swinson described the measures he took to ensure he did not appear biased in any way.
'Harassment and bullying'
He said a meeting with Senator Ozouf confirmed earlier warnings attempts would be made to discredit the report by smearing its author.
Those remarks attributed to Senator Ozouf were that he made a mistake in dealing with the project, that he would defend himself if necessary and asked whether Mr Swinson was "out to get him".
The report, published on Tuesday, catalogues accusations of harassment and bullying by Senator Ozouf and an attempt to smear the former chief executive of Jersey Property Holdings, David Flowers.
Senator Ozouf said: "It's very easy to say when someone is being challenged that that behaviour is too challenging, well we were at risk of purchasing the most expensive piece of property the States would have ever bought - I think the public expect me to ask questions.
"I think I was right to try and save the public money, that is my job."
The States is now planning to build a new £21m police headquarters, on the Green Street car park next door.