Concerns about 'lack of progress' at Jersey's Fort Regent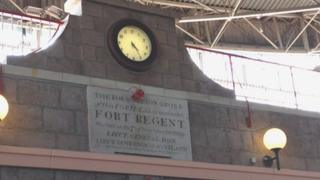 A political steering group is concerned about the lack of progress in the development of Jersey's main leisure centre complex.
Last November the steering group agreed a plan for the Fort Regent site, including exploring ideas to demolish the swimming pool.
Many of the actions were due to be completed by March but few have been.
The treasury department, which manages the property, said some of the deadlines were "optimistic".
Former minister for education sport and culture, deputy James Reed, was part of the original action group and said he struggled to understand why the project had stalled.
Eddy Noel, assistant treasury minister, said he hoped new plans would improve the situation.
He said: "This boil on the landscape needs to be lanced and we need action now not just words."
Fort Regent was built as a military fortress and was completed in 1814.
The swimming pool was first built in 1971 but was later closed when the Aquasplash centre on the St Helier waterfront was opened in 2003.