Jersey artist chosen for Queen's Diamond Jubilee Pageant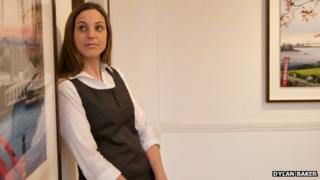 A Jersey artist living in London has been commissioned by the States to record the Diamond Jubilee Thames Pageant.
Emily Allchurch has been chosen to make a permanent record of the pageant on Sunday 3 June.
She will be on one of the two Jersey boats in the celebration.
The Howard D and the Norman Le Brocq will join about 1,000 other boats accompanying the Queen's converted cruiser on the River Thames.
The Bailiff said a selection panel reviewed the submissions following an open competitive process, which attracted a number of high-quality entrants.
'Joyous and colourful'
Ms Allchurch said: "I've established quite a reputation by recreating old master prints and paintings by merging hundreds of photographs into one image.
"I tell a whole story about an event in a single image, so I take lots of photos. I'll be doing that on the day and then using digital software I'll piece them together to create my story for prosperity."
She is using the technique to re-create Richard Paton's 1789-90 painting of the Lord Mayor proceeding to Westminster on Lord Mayor's Day from the Guildhall Art Gallery collection in London.
Jersey's Bailiff, Michael Birt, said: "This is a most exciting commission by the States of Jersey in commemoration of Her Majesty The Queen's Diamond Jubilee.
"The work will be a fitting artistic impression capturing the joyous and colourful occasion of the Thames jubilee flotilla."
Ms Allchurch's finished picture will be on public display in Jersey in late July.
The Diamond Jubilee River Pageant will be one of the main events of a four-day bank holiday weekend marking the Queen's 60-year reign.
The flotilla is expected to be seven-and-a-half miles long and will be made up of privately and commercially owned boats, ranging from rowing boats and sailing ships to steamers, wooden launches and larger motorised craft.