Jersey chief minister backs Philip Ozouf after deal collapse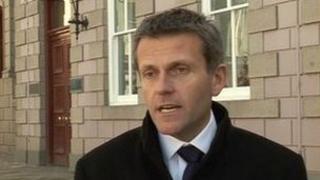 Jersey's chief minister has backed treasury minister Senator Philip Ozouf over his handling of the failure to buy Lime Grove House.
There have been calls for Mr Ozouf's resignation after collapse of the deal for the new police station.
Mr Ozouf was accused of bullying and harassment during negotiations, which were reviewed by the Auditor General.
However, Jersey's Chief Minister, Senator Ian Gorst, told the States: "Everyone makes mistakes."
Auditor General and Comptroller Mr Swinson's report said the relationship between the treasury minister and others broke down.
'Signs of stress'
Mr Ozouf later apologised for any mistakes he had made but denied bullying anyone.
Mr Gorst has now told the States the minister had been under a lot of pressure.
He said he would be holding regular meetings with his ministers and would look for signs of stress.
He believed the way his minister was working now had changed.
Mr Gorst said: "One of the changes I want to make as part of the reform programme is to end the blame culture that currently exists.
"That doesn't mean people should not be accountable for their actions but accountability and blame are not the same thing."