Hologram Jersey £100 banknotes go on sale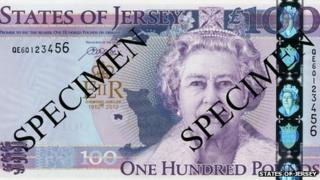 A Jersey £100 banknote featuring the first official holographic portrait of the Queen has gone on sale.
The Jersey Museum is holding a sales day and the notes are available at Cyril Le Marquand House and the Post Office in Broad Street.
The note is now legal tender and can be used in shops across the island.
A new £10 stamp is also issued on Friday, featuring the same holographic portrait by Chris Levine to celebrate the Queen's Diamond Jubilee.
Mike Liston, the chairman of Jersey Post, said the creative team at the Jersey Philatelic Bureau had been working on the stamp project for a year.
He said: "As you can imagine, the production of the hologram stamp has been a very complex procedure.
"Following royal approval of the design, the stamps were printed and then the holograms - which were produced in Switzerland - were affixed."
Chris Levine created Equanimity to mark Jersey's loyalty to the crown in 2004.
During the run up to the Queen's Diamond Jubilee it has received international publicity and critical acclaim.
Philip Hewat-Jaboor, who advised the States how to use the portrait to promote Jersey, said: "This image... has created a wonderful opportunity to promote our island.
"It demonstrates our long and historic loyalty and allegiance to the Crown through this splendid and iconic portrait of Her Majesty."