Rowathon raises a record £25k for Jersey cancer patients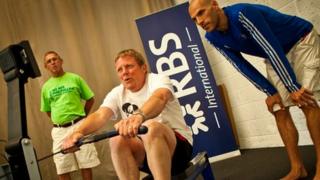 A record £25,000 has been raised for Macmillan Cancer Support Jersey at an annual indoor rowathon.
There were 47 teams in the event, which is the highest number since it began.
The event, which is in its third year, involved teams of six people rowing 30,000 metres, the equivalent of Sark to Jersey.
Brian Frith, chairman of Macmillan Cancer Support Jersey, said he was really impressed by the camaraderie between teams.
He said: "The money raised will make a significant difference to Macmillan Jersey in supporting cancer patients and their families in Jersey."
Andy Smith, from RBS International which sponsors the event, said: "The event grows in stature each year and the presence of Olympic rower Toby Garbett really added to the event."