Islanders donate more than 100 old suits to Jersey's homeless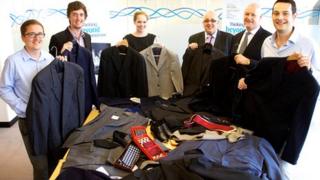 Islanders have donated more than 100 unwanted suits to help homeless people get back to work.
Organisers said many of the suits donated were designer brands.
Peter Murley, chief executive of Hawksford, said: "We are delighted that generous islanders have donated over 100 suits, it is more than we ever imagined we'd receive."
It was the first time a suit collection had been held in Jersey, and they would now be passed to the Shelter Trust.
It would help disadvantaged and homeless people keen to find work but unable to afford their own professional work wear.
John Hodge, director at The Shelter Trust said: "The suits are perfect for our back to work projects which are all about getting people off the streets and preparing them for working life."