Plan to charge Jersey migrants for immigration controls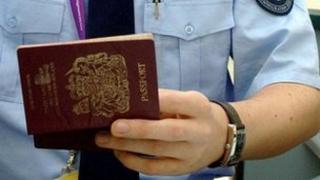 Migrants will have to contribute to the costs of immigration controls under new legislation in Jersey.
A housing and work law aimed at controlling population levels is being brought into effect later this year.
A population register will be set up and people will need a registration card, which could cost them £75.
Jersey tenants campaigner Mike Dun has criticised the plans, saying he thinks it will put people off working in the island, particularly carers.
Senator Paul Routier, chairman of the migration advisory group, said: "It is vitally important that Jersey effectively manages population growth.
"We believe the costs of doing this should mainly be met by new migrants and contractors who come to Jersey, not by the taxpayers and homeowners as they are now."
Under the plans the current £70 fee for consent to buy housing would be abolished.
It is proposed that new fees would be charged for newcomers to Jersey, contractors coming to the island to take on work and local businesses employing high value migrants.
There are also plans for high value residents to be charged a fee of £5,000.
Senator Routier said: "These latest proposals have been carefully designed to eliminate fees for established residents and reflecting on the current economic climate.
"However, it is most important that we hear the views of islanders and businesses before we decide who pays for our immigration controls."
There is a public consultation running until 25 July.