Canadian man who lost £100k 'can't be helped by JFSC'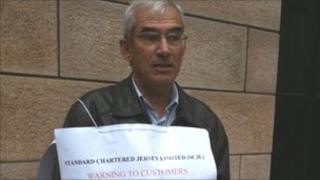 A man who claims he lost £100,000 in the global economic downturn has been told he cannot be helped by Jersey's Financial Services Commission (JFSC).
Canadian George Burrow lost the money in 2008 after investing it with Standard Chartered Jersey Limited.
Jersey's economic development minister told the States the JFSC had decided there was not enough evidence to take action against Standard Chartered.
The bank said it had investigated and was satisfied with its conduct.
Mr Burrow claimed he had been told by Standard Chartered that his money would have no exposure to US financial institutions.
He said he was later called to say it had been lost after being invested in US bank Lehman Brothers.
The minister, Senator Alan Maclean, said: "There has been significant assistance to this individual and the circumstance he finds himself in is clearly most regrettable."
Mr Burrow is in Jersey, protesting outside the bank in St Helier, and he also spent two days there in September last year.